1. Click on the "Deposit" button in the right top corner.




2. Choose "Kazakhstan" in the "Сountry" section and select "VISA/MasterCard/Maestro" method.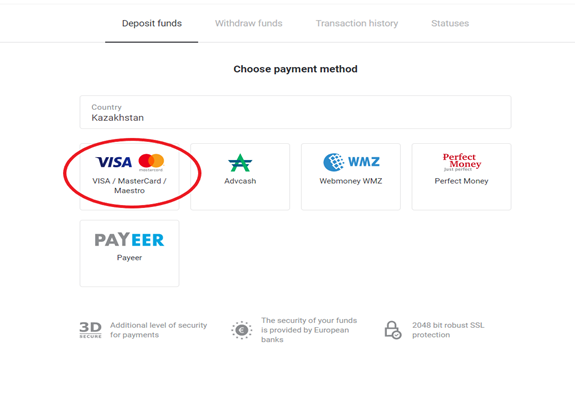 3. Сhoose the amount to deposit.




4. Fill in your bank card details and click on the"Pay" button.
If your card is issued by Kaspi Bank, then please check in the mobile app that you have activated the payment option on the Internet, and you have not reached your limit. You can also expand the limit in your mobile app.
Also your bank can decline transaction, to avoid it please follow this information:
1. If your bank has a suspicion of fraud, then it declines the operation.
2. Then a random amount is debited from your card (from 50 to 99 tenge).
3. You will asked to enter the amount that was debited. Enter the amount from SMS in mobile app.
4. If the amount is correct, then you will be included in the WHITE LIST.
5. The debited amount will be returned to the card.
6. The next payment will be successful.

5. Enter a one time password from your bank to complete the transaction.

6. If the payment was successful you will be redirected to the following page with the amount of the payment, date and transaction ID indicated: